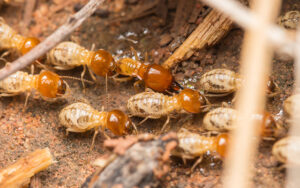 Have you ever had a termite infestation at home? If you ever had an infestation, you would know the consequences of termites. Termites are silent invaders that can wreak havoc on your property if left unchecked. These tiny pests feed on wood and can cause extensive damage to the structure of your home or business. While there are various DIY methods available, opting for professional termite control services offers significant advantages. In this blog, we will explore the top benefits of hiring professionals to tackle termite infestations.
Early Detection and Prevention
Professional termite control & removal experts are trained to identify early signs of termite activity. By conducting regular inspections, they can detect termite colonies before they become full-blown infestations. Their expertise ensures timely intervention, preventing costly repairs and structural damage in the long run.
Tailored Treatment Plans
Each termite infestation is unique, and a one-size-fits-all approach seldom works. Professional termite control services offer tailored treatment plans based on the specific needs of your property. They utilize advanced techniques and equipment to eliminate termites effectively, minimizing the risk of re-infestation.
Comprehensive Elimination
While DIY solutions may provide temporary relief, professional termite control goes beyond surface-level extermination. Experts employ a combination of techniques such as baiting systems, chemical treatments, and barrier methods to ensure the thorough eradication of termites from your property. This comprehensive approach significantly reduces the chances of a recurring infestation.
Long-Term Cost Savings
Investing in professional termite treatment & control is the best decision. Although it may seem costlier upfront, it saves you from potentially hefty repair bills caused by termite damage. By addressing the problem promptly and effectively, professionals protect your property's value, potentially saving you thousands of dollars in the long term.
Expert Knowledge and Experience
Professional termite control technicians possess extensive knowledge and experience in dealing with termite infestations. They stay updated with the latest industry practices and employ proven methods to eradicate termites. Their expertise ensures the most efficient and effective solution, giving you peace of mind.
By entrusting the task to our experts at MR Termite Solutions & General Pest Control, you ensure the safety and structural integrity of your property while enjoying the peace of mind that comes with effective termite control. Don't wait for termites to cause irreparable damage – call us at 0413716233 today!