Looking to build a new home from scratch or carry out a major renovation? In that case, having pre-construction termites treatment is important to protect your property from termite-related damages. M&R Termite Solutions, a leading pest control company in Melbourne, offers pre-construction termite treatment and pest control services to all sorts of residential and commercial buildings at competitive prices. We have highly-qualified termite control experts who use the best techniques available to destroy the termites from root and solve the problem before they develop. 
What is Pre-Construction Termite Treatment? 
The pre-construction termites treatment is a method to protect any structure from termite attacks that can occur in the future. This is usually performed before beginning the construction work or when the building is being built. The pre-construction treatment involves creating a chemical barrier between the building and the layer of soil that is in immediate contact with floor structure and building's foundation. Even all wooden fixtures are treated with approved termiticides to provide the building a strong barrier against the termites.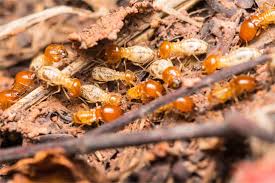 Pre-Construction Termite Treatment Procedures 
Our pre-construction termites treatment is so comprehensive and produces effective results. Our termite control experts begin with carrying out a thorough inspection of the construction site to determine the most suitable treatment plan and total number of doses required to treat the entire area. Then, we will work in tandem with your construction team to treat the soil with the most effective termiticide. 
Generally, we apply approved termiticides along the external perimeter of the building, floor and wall junction, expansion joints, column and plinth surface to safeguard your property against termite attacks. However, we come up with a bespoke treatment plan depending on your specific situation, property size and the level of protection you require.
Pre-Construction Termites Treatment Advantages 
When done by a knowledgeable pest control team, pre-construction termites treatment will protect your property from termite damages for several years.

The cost of pre-construction termites treatment is more economical when compared to the cost of repairs to the damaged walls, wooden structures and foundations caused by termites. 

The process, time, cost and effort involved in pre-construction termites treatment are less compared to post-construction termite treatment, so opting for this treatment is a wise move. 
Decided to invest in pre-construction termites treatment? Would you like to know more about this procedure? Feel free to call 0413 716 233 and speak to our termite control experts today.