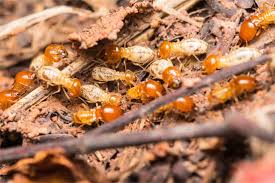 Looking for termite treatment in Eltham North? M&R Termite Solution offers termite Control, inspection & protection across Eltham North & surrounding suburbs. Termites are one of the most common pets that can extensively damage the structure of a property. They can tunnel through the wooden framework and make your dwelling place unsafe to occupy. At M&R Termite Solution, we provide quality pest control services to our customers across Eltham North and nearby suburbs.
When you approach our pest control team, we will send a termite inspection team to inspect all the accessible areas of your property and search for the signs of termite activity, damaged wood, termite droppings and entry ways. If we discover termites, our trained staff members can guarantee that your home will be free from termites in no time.
Based on the severity of infestation, we will adopt appropriate techniques and use the latest equipment to eliminate them before it eats away your property completely. At M&R Termite Solution, we will endeavour to make the entire termite treatment process easy for you. Our qualified experts will evaluate the damages and suggest precautionary measures to protect your investment.
If you suspect termites, don't panic, simply pick up your phone and call 0413716233 to reach your nearby termite specialists! Our expert team will inspect your home and offer complete termite control services.
Our Service Area Includes