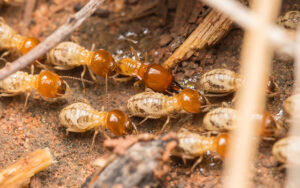 Looking for termite treatment Diamond Creek? At M&R Termite Solutions, we have been providing termite inspection and treatment solutions to our customers across Diamond Creek and nearby suburbs. Whether you would like to prevent future infestations or have already encountered termite activity in your property, you can rely on our crew members for all your termite control needs.
Inspection:
We start with a comprehensive inspection of your property to identify the extent of termite infestation. Our team takes all the factors into consideration that can be effective in resolving your termite problems and preventing the issue from recurring.
Execution:
Based on our findings, we work with you to develop a termite treatment plan that suits your specific situation. Using the latest tools and techniques, we will identify the source of your termite problem and execute all the measures to make sure that your property is free from these annoying creatures.
Assessment:
We strongly believe that ongoing maintenance is the key in keeping the pests away. After executing the plan, our technicians conduct regular inspection and evaluation of your property to ensure that termites are completely gone.
Do you often search for a 'termite specialist near me' to get rid of termites? Stop by M&R Termite Solutions or simply call 0413 716 233 to schedule an appointment with our termite inspection team!
Our Service Area Includes