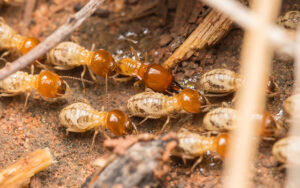 Looking for termite treatment Doncaster East? M&R Termite Solution offers termite inspection, treatment across Doncaster East & surrounding suburbs. Termite infestation can be a serious problem for business owners and homeowners as these pests can cause adverse damages to homes and commercial buildings. To prevent minor problems turn into major ones, you should have a regular termite inspection. With over 10 years of experience in the pest control industry, M&R Termite Solution offers affordable termite control solutions to the property owners in Doncaster East and nearby suburbs.
Termite infestations are hard to identify unless they cause major structural damages. If you suspect any termite activity, you must call a professional team to deal with the problem. At M&R Termite Solution, we have a team of inspectors who can thoroughly assess the interior and exterior of your property to find out their colonies. After inspection, we will adopt the most effective method to eliminate the termites completely.
When we deal with the pest infestation, we use only the approved pesticides in accordance with the label directions. In order to eliminate the termites completely and safeguard your family and property, we employ only well-trained professionals to perform termiticide applications.
If you are looking for a termite inspection nearby, call M&R Termite Solution on 0413716233. We can provide the most effective results and help you get rid of termite problems quickly.
Our Service Area Includes