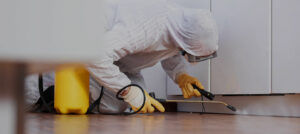 Dealing with pests has become a constant battle for households in Melbourne. And now spring is here, pests are even more active. So, protecting your home from spring season popular invaders like bees, wasps, spiders, and rats becomes crucial. In today's blog, we will guide you with the telltale signs that can help you identify pest problems early, ensuring a pest-free season. Also, let us tell you the reasons why spring pest control is a must for your home.
Spring is the ultimate season for bees and wasps. It marks the beginning of bee activity as they seek nectar and build hives. While bees play a vital role in pollination, a hive near your home can pose risks. Professional bee removal ensures a safe relocation, preserving the environment while protecting your family. If you notice an increase in insect activity or see nests near your property alarm bee activity and you must take immediate control.
Wasps Removal Melbourne
Wasps become particularly aggressive in spring, defending their nests. DIY removal can lead to painful stings and allergic reactions. Hiring experts for wasp removal in Melbourne ensures a safe and effective elimination, safeguarding your home from potential threats.
Spider Treatment Melbourne
The sight of spiders themselves can make one's skin crawl. Spiders thrive in warm weather, and spring is their prime season. Some spiders carry venomous bites, posing a risk to your family. Professional spider treatment in Melbourne targets these arachnids, creating a pest-free environment without harming the ecosystem.
Rat Removal Melbourne
Rats take shelter in homes during spring, scavenging for food and nesting materials. Beyond the property damage, rats can transmit diseases. Timely rat removal in Melbourne prevents infestations, safeguarding the health and well-being of your household.
Investing in spring pest control is an essential step to protect your home and family. Whether addressing pest issues promptly or ensuring a safe and comfortable living space, don't let pests take over your spring.
To take proactive measures to enjoy the season without unwanted intruders, schedule a professional pest control with M&R Termite Solutions & General Pest Control to embrace a pest-free home this spring. For inspections, call us on 0413716233 today.