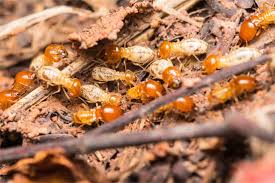 Are you hearing that clicking sound from your walls often? It could be termites. They bite your costly furniture, wood ceilings, and floors in search of food. They are noisy eaters and loves to devour your wood as fast as they can. 
These termites in search of cellulose can go deep into the wood and weaken the structure. If it gets unnoticed, your wood may go fragile. Termites are destructive creatures that can spoil your beautiful home. It may be hard to find the infestation of termites since most of the termites are wood colored. The most common threat is termites poop or frass can be harmful to humans, it can cause contact dermatitis. It is safe to eradicate them as early as possible. This is where you need to be proactive and get the help of a reputed pest control service. 
How To Find If Your Home Is Infested By Termites?
Discarded wings near the doors or windows

Floors appear damp as if it has been damaged

Wood damage due to chewing

Grinding sound from the walls

Termite wood droppings resemble wood dust

White termites crawl over the surface resembling white ants
How Can Termite Affect People?
They do not directly bite humans; however termite frass can be allergic to people who have sensitive skin.

Your pets can get infested with allergies.

Termite's frass if inhaled might cause asthma.

Additionally it can spoil your garden trees by creating nests inside.

It can cause molds on your walls, which in turn affects the indoor air quality.
What You Should Do When Your Home Is Infested By Termites?
You can use any of these signs to spot them. As soon as you suspect their presence, you can call any professional pest control services, who can eradicate them by assessing its severity. It is better not to use any DIY skills to clear them on your own; in turn, it will affect your wood's quality. 
Protect your home by calling M&R Termites Solutions today on 0413716233.