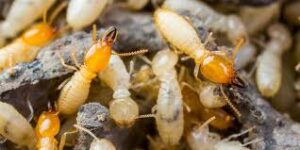 Looking for termite treatment Northern Suburbs? Termites are the silent destroyers that can feed on insulation, wood, trees and shrubs, causing extensive damages to homes and offices in Northern Suburbs, Melbourne. When it comes to protecting your property from these devastating creatures, you can rely on M&R Termite Solutions.
If you suspect that you have a termite infestation in your property, schedule an appointment with one of our qualified technicians who can conduct thorough termite inspection. We will check each and every area of your property and look for termite activities. After the inspection, we will create a customised treatment plan to completely destroy termite colonies, leaving your home pest-free.
The best way to keep termites away is to opt for annual termite inspection. At M&R Termite Solutions, we will provide annual inspection service and deal with any termite invasion quickly. With periodic inspection, we will be able to find the existence of these pests and take remedial measures to control further infestation.
With comprehensive entomology expertise, extensive training in the unique treatment methods and the use of advanced pest management tools, we can eliminate your termite problem right away. So, if you see termite activities in your property or simply want a peace of mind, don't hesitate to call us on 0413 716 233.
Our Service Area Includes