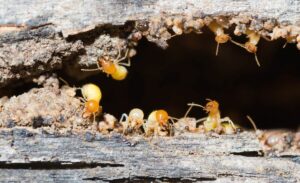 M&R Termite Solutions is your premier destination for comprehensive pest control services in Greensborough. We understand that a pest-free environment is essential for your peace of mind and the well-being of your home. Our dedicated team is committed to providing effective solutions that ensure your space remains free from unwanted pests. With our expertise in Greensborough pest control and termite management, we're here to safeguard your property.
Whether you are dealing with rodents, birds, termites or any other insects, we will implement the most effective and eco-friendly techniques to exterminate the infestation completely. While we are expert in eliminating all kinds of pests, our specialisation goes around termite inspection and termite treatment. We will deploy a unique approach to identify and eliminate annoying termites from your property.
Pest Control Greensborough: Our skilled professionals are equipped with the knowledge and tools to tackle a wide range of pests that can invade your home. From ants and cockroaches to spiders and rodents, we employ effective strategies to eliminate them and prevent their return.
Greensborough Termite Control: Termites can wreak havoc on your property if left unchecked. Our termite control services are designed to detect termite activity early and implement targeted treatments to protect your home's structural integrity.
Comprehensive Pest Inspection Solutions: Our thorough pest inspections are the first step towards ensuring a pest-free environment. We identify problem areas and customize our approach to address the unique needs of your property.
M&R Termite Solutions offers exceptional pest control and termite management services in Greensborough. With our team of experts and proven methods, we are dedicated to creating spaces that are comfortable, safe, and free from pests. Contact us today to learn more about our services and how we can help you maintain a pest-free home.
As the leading pest control company, we are consistently educating our staff on the most effective and advanced techniques to fulfill our customers' needs. So, give us a call for pest control in Greensborough! Contact us at 0413716233 for general pest control assessments with free quotes for termites, ants, spiders, and cockroaches.
Our Service Area Includes