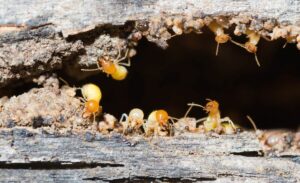 Are you looking for termite treatment in Greensborough & surrounding suburbs? MR Termite Solutions is a locally owned and operated pest control company offering termite inspection, treatment, protection and full-fledged pest control services in Greensborough and all across Melbourne. Our friendly and knowledgeable professionals provide pest inspections and pest treatment services when any concern arises at your home or office. All our pest control solutions are safe and reliable, causing no harm to the occupants and the environment. We ensure using the least amount of chemical to solve the pest problems with quick turnaround time.
Whether you are dealing with rodents, birds, termites or any other insects, we will implement the most effective and eco-friendly techniques to exterminate the infestation completely. While we are expert in eliminating all kinds of pests, our specialisation goes around termite inspection and termite treatment. We will deploy a unique approach to identify and eliminate annoying termites from your property.
As the leading pest control company, we are consistently educating our staff on the most effective and advanced techniques to fulfill our customers' needs. So, give us a call for pest control in Greensborough!
Our Service Area Includes