Looking for termite treatment in Whittlesea? Having a professional to deal with pest control is extremely crucial for your family's healthcare. M&R Termite Solutions offers termite inspection, treatment, protection and full-fledged pest control services in Whittlesea & all across Melbourne with exceptional quality.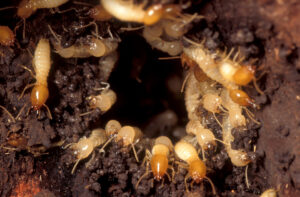 We have a team of professionals who understand the need to offer the most effective pest treatment solutions without compromising on the quality standard. With years of experience in this industry, we have gained great knowledge to provide the best pest inspection and extermination services to all our clients and customers.
All our experts are highly trained and licensed to carry out termite inspection in both commercial and residential properties. After determining the level of infestation, we come up with innovative and targeted termite treatment solutions that can resolve the issues effectively.
Termites are dangerous to deal with. They look like flying ants but can eat up your house structure without any alarm. Pest control practices have recently changed intending to prevent future invasions. Likewise, termite control methods also changed as opposed to only treating the existing infestations. As a homeowner, if you suspect termite damage in wood lumber, instead of replacing you can follow these steps or get help from professional termite control experts in your area.
No matter what type of termite inspection you have, our pest control whittlesea experts from M&R Termites Solutions can help you. If you want to ensure a rat-free home, make sure to hire professionals from M&R Termites. For appointments, call  0413716233.
Want to make your home pest-free? Give us a call today!
Our Service Area Includes