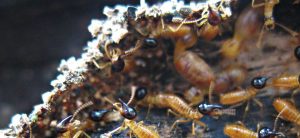 Your home is the most expensive possession that can be infested and invaded by pests at any time. Having a regular pest inspection will help ensuring that your investment remains in pristine condition for years to come. M&R Termite Solutions is a renowned pest control company that can detect, treat and destroy pest infestation and address the needs of property owners in Heidelberg and nearby suburbs.
Our professionally trained experts will listen to your pest control needs and give you a free estimate. Whether you have a house, educational building, warehouse or any other property, we will inspect each and every corner and offer the most effectual pest treatment solution based on the infestation level.
Termites are tiny scavengers that will enter your home or business looking for food and shelter. Once inside, they will grow as a colony and become a problem quickly. We will use the state of the art tools and methods to provide efficient termite treatments solutions to our customers.
All our pest control services are guaranteed to your complete satisfaction! So, call us today to get a quote for termite inspection in your office or home!
Our Service Area Includes