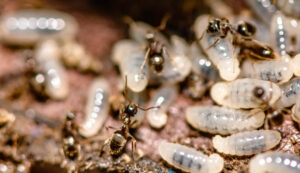 Destructive pests like ants, rodents, spiders, birds and termites find their way indoor to seek out food and shelter, and invade your building within a short span. At M&R Termite Solutions, we provide a wide range of pest control Watsonia services including, pest inspection, spider treatments, ant treatments, rodent removals and termite treatment at incredible prices.
We offer comprehensive termite inspections and treatments to properties in Watsonia and nearby suburbs. We will thoroughly inspect your property for termite activities and determine appropriate treatment methods. Our pest control Watsonia specialists will implement all the effective techniques to eliminate the termites completely from your property.
With years of experience in pest control industry, we are able to deal with any kind of destructive creature. Our professionals are committed to use quality, non-toxic chemicals, innovative approaches, ecofriendly techniques and cutting edge technology to ensure long term results.
If you are experiencing pest or termite issues in Watsonia, M&R Termite Solutions is here to help. Contact our team today to schedule a consultation and receive a tailored solution that meets your specific needs and budget. With our pest control service in Watsonia, you can have peace of mind knowing that your property is well-protected from pests and termites.
Our Service Area Includes