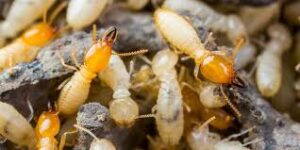 Looking for pest control in Eltham? MR Termite Solutions offers pest inspection, treatment, protection, and full-fledged pest control services in Eltham and all suburbs across Melbourne. Our dedicated team is here to provide top-notch pest control services right here in Eltham. Whether it's those sneaky spiders or other pesky pests, we've got you covered. With our expert pest inspection in Eltham, we'll identify the problem areas and tailor a solution just for you. Say goodbye to the nuisance and hello to a pest-free haven. Choose M&R Termite Solutions for effective spider control in Eltham and enjoy the comfort you deserve! We at M&R Termite Solutions don't simply get rid of the pests; we also make sure that they won't come back. With our thorough approach to pest control in Eltham, we address the problem at its source, leaving no room for the vermin to return. You can rely on us to protect your house thanks to our tried-and-true techniques and qualified staff. Contact us right away, and let's turn your Eltham house back into a refuge before the pests take over.
Eltham is home to a variety of pests that can cause lots of frustration and property damages. Typical pests like ants, spiders, fleas, rodents, and termites are more prevalent, so it is critical for home and business owners to exterminate them as quickly as possible. MR Termite Solutions has a team of experienced and certified pest control professionals who closely work with the property owners to devise a perfect plan for pest extermination.
Our experts perform a quick pest inspection and offer a wide range of pest treatment options to eliminate the insidious creatures from the root. We also provide an annual inspection service and discuss preventative steps to protect your building from further infestations. With expertise honed over decades, they offer comprehensive pest management solutions that prioritize client safety and environmental preservation. M&R's team of highly trained technicians employs state-of-the-art techniques and eco-friendly products to combat termites, rodents, insects, and more. Their tailored approach ensures efficient and lasting results, preventing property damage and health risks associated with pests. Committed to exceptional customer service, M&R Termite Solutions provides reliable consultations, inspections, and maintenance programs, earning trust and recognition as the go-to solution for pest control needs.
If you suspect a termite infestation, you must take the required steps immediately to protect your property before they take control. Our technicians will conduct a termite inspection and customise a termite treatment plan to eradicate these destructive pests.
Need pest control in Eltham? Looking for a reliable firm to determine the extent of pest infestation? Schedule your appointment with us today! Contact us at 0413716233 for general pest control assessments with free quotes for termites, ants, spiders, and cockroaches.
Our Service Area Includes