At M&R Termite Solutions, we provide pest control Briar Hill services to our customers across Briar Hill and nearby suburbs. From ants to mice, we exterminate all kinds of pests and provide a long-lasting solution at competitive prices.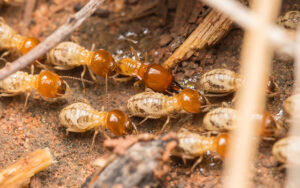 Before we initiate the treatment plan, we evaluate the exact situation and discuss all the options available to get rid of the pests. We are committed to use only approved pesticides to ensure the safety of your family. In order to address your specific pest problem, we use appropriate product and techniques to alleviate them permanently.
We take into consideration the size of your home and the level of infestation to set up the right pest control plan. Our exterminators will continue to monitor your home to prevent future infestation.  We are so conscious about the environment and use only the products that are highly effective only on the pests. M&R Termite Solutions, a leading pest control Briar Hill, is dedicated to safeguarding homes and businesses from pesky invaders. With expertise honed over decades, they offer comprehensive pest management solutions that prioritize client safety and environmental preservation. M&R's team of highly trained technicians employs state-of-the-art techniques and eco-friendly products to combat termites, rodents, insects, and more.
Benefits of Choosing Us:
Careful examination of your property
Pest removal using harmless chemicals
Strategic plan to eliminate pests
High quality pesticides
Complete pest management services
Access to expert exterminators
Quick response
Ensure peace of mind
Whether you want a pest inspection or treatment service for your residential or commercial property, call your nearby specialist at 0413 716 233 today.
Our Service Area Includes